BOOKS & MISCELLANEOUS WRITINGS
In addition to his traditional professional services, the writing of books is a fundamental element in Sebastian's communications arsenal. He has published books with both corporate publishers and under his own press. With comprehensive knowledge and experience in book publishing, typography, and book design, he offers consulting and educational programs in self-publishing–or he can take charge of your book production for you. For more information visit the Publishing Services page.
Below are his books and few samples of his published articles. Click on the Amazon icon to order. For a sample chapter click on the book covers.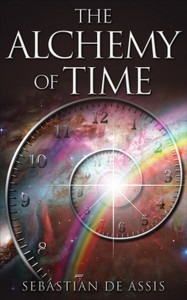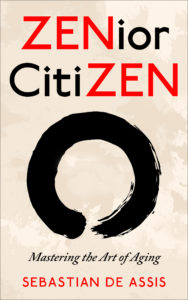 Click here to read a book review published in Spirituality & Practice, a highly regarded publication in the field.
Praise  for ZENior CitiZEN: Mastering the Art of Aging.
"Sebastian de Assis has performed an invaluable service to aging Boomers. As youth, Boomers sought inspiration from Eastern traditions. ZENior CitiZEN now provides us with an intelligent, intelligible, lucid resource. This aging Boomer delights in de Assis' guide to the art of aging."
Andrew Achenbaum, Ph.D. University of Houston and author of Older Americans, Vital Communities: A Bold Vision for Societal Aging, and Crossing Frontiers
"Sebastian de Assis wrestles powerfully with the angel of aging, bringing ideas from Zen and Taoism into the great struggle to understand what this angel wants from us. His story reminds us of our own struggles and invites us to see the journey of age with new eyes… ZENior CitiZEN can be a great companion on a reflective afternoon to check in your own path."
John C. Robinson, Ph.D. Author of The Three Secrets of Aging
"In traditional Hindu cultures, the last phase of our life is when we begin our spiritual journey. As an almost seventy year old Buddhist teacher, I welcome Sebastian de Assis' call to transform our senior years into the time of our lives…"
Will Johnson, author of The Posture of Meditation and Breathing Through the Whole Body
"In Zenior Citizen: Mastering the Art of Aging, Sebastian de Assis has so artfully offered us an absolutely essential alternative path toward the process of aging…Zenior Citizen invites readers to the art of surrendering and living fully in the now…Sebastian de Assis invites us to what he calls the Power of Aging. One can choose to keep fighting for dear life or one can learn the art of Zen and embrace life, allowing life to teach us how to live and how to be. This should be a required text for a course on gerontology."
Siroj Sorajjakool, Professor of Religion, Psychology and Counseling, Loma Linda University and author of Do Nothing, Reflections on Chuang Tzu's Philosophy
"I have found Sebastian de Assis' new book  ZENior CitiZEN: Mastering the Art of Aging, to be a unique and invaluable resource for those seeking to move consciously and fearlessly on the journey through the later chapters of their lives…this book inspires hope by showing how we can liberate ourselves from the shackles of fear of uncertainty and loss of control so that we may live fully in each present moment…a moving account of de Assis' quest to discover how to open to each present moment through study and practice of the Zen tradition…This book is meant to be read slowly and reflectively. It is full of deep wisdom and powerful practices that can make our journey through aging a time of liberation rather than fear."
Ron Pevny, Director of the Center for Conscious Eldering and author of  Conscious Living, Conscious Aging
"In ZENior CitiZEN: Mastering the Art of Aging, Sebastian de Assis discusses his journey to find a Zen-like acceptance and strength for getting older. He masterfully shares his insights, which could be very useful for others to contemplate and practice…Scientists are finding that mindfulness can lead to measurable changes in mental and cognitive health among older adults, and de Assis adds a unique and valuable perspective to this approach."
Robert G. Winningham, Professor of Psychology & Gerontology, Western Oregon University and the author of Train your Brain: How to Maximize Memory Ability in Older Adulthood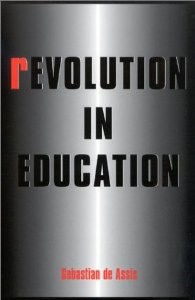 rEVOLUTION IN EDUCATION (2003) 248 pages ISBN 0-8108-4444-3 Paper Cover Price: $24.95 ISBN 0-8108-4443-5 Cloth  Cover Price: $34.95 Rowman &  Littlefield Publishing Group.
Posing that the problems of our educational system are a reflection of a much broader social crisis, this unique and thoughtful work offers a holistic approach to education. Exploring social reform through educational practices, the author argues for a new education paradigm in which the hub of the educational wheel is the individual human, instead of the individual laborer. This is not a book about education per se, but how education is an essential element for social change. Thus, anyone interested in the current challenges of our times will want to delve into the ideas presented in this work. In addition to offering a cure for the ills of the education system, this book also is a beacon of hope to a world in chaos.
You can purchase rEvolution in Education by clicking on the logo of the booksellers below.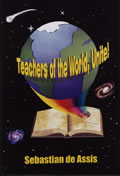 TEACHERS OF THE WORLD, UNITE! (2000) 98 pages ISBN 0-9700722-0-1  Cover Price: $10.95 The Educational Center Press
Teachers of the World, Unite! is an education manifesto denouncing the bureaucratic forces that manipulate education through obsolete approaches and dictatorial practices. It proclaims the urgent need of education for human development in a world obsessed with technological and economic expansion. This book has received excellent reviews and has been required reading at SUNY School of Education courses. Here are a few testimonials to the success of this title:
"Teachers of the World, Unite! draws on the rich tradition of humanistic and progressive education to argue that there is an alternative to the mechanistic an deadening system of schooling that this nation has tolerated for too long."
Ron Miller, President of the Foundation for Educational Renewal and the author of What are Schools for?
"Sebastian de Assis exhorts us to reclaim education as a humanistic and transformative enterprise…He argues in clear and practical prose that education and an apprenticeship of liberty are indispensable to a functioning participatory democracy."
 William  Ayer, Distinguished Professor of Education at the University of Illinois, Chicago
"Your books are so timely and so necessary in today's educational environment."
Elena Christova, Ph.D., Humanities Program Coordinator at California State University at Dominguez Hills
"(You) have many great ideas…I enjoyed (your) frankness…Teachers of the World, Unite! should be required reading in all colleges that prepare teachers."
Victor Pellegrino, Retired Professor of English at the University of Hawaii
"A blueprint for debates on the new wave of educational activism. This book is a powerful  manifesto to reinstate the path of meaningful teaching and worthy learning experiences."
Josette Boyden, Child Family Educator
"Teachers of the World, Unite! is a quick, pleasant and informative read…the ideas and theories offered are basically sound…it is recommended reading for both aspiring and established teachers…the book capably inspires and instructs."
Sarah Linn, Book Reviewer and Editor at Oregon State University
WRITING SAMPLES
In addition to his books, Sebastian has published numerous articles in various publications.  Click on the links below to read a few samples of his articles. The writing samples below are in PDF format and can be read with the free

Announcements & Publicity